Birthday Party Band Videos Archive 3
Did you know that 'Punch The Air' go all the way back to 2013 ? Yes it was two thousand and thirteen that we formed. We've created a lot of original video content over the years. Below is a selection of birthday party band videos we've shot as an indie rock cover band. Furthermore weddings, a Vlog, a collaboration and more.
Vlog 005 Derbyshire Wedding
Our experiences in Vlog form as a Derbyshire Wedding Band for Rachel & Steves at Lower Damgate Farm, Ilam, Ashbourne. We had an absolutely brilliant time as did the bride and groom and all the guests. Everything in this video is 100% live. All the audio was recorded at the actual wedding. Subsequently it is exactly how it was performed live on the day. As you will see the venue had a "Sound Limiter". So we brought along our state of the art electronic drum kit to adhere to the restrictions. If your venue has a sound limiter then we can tailor the volume of the band to your venues strict sound volumes too. Without having an effect on the show or bands performance.
---
Mr Brightside – TOTALLY LIVE at Rachel & Steves Wedding
Everyones favourite song by The Killers. A one shot video at this Derbyshire wedding venue. "Jealousy, turning saints into the sea, swimming through sick lullabies. Choking on your alibis, but it's just the price I pay"
TOTALLY LIVE Mr Brightside footage from Rachel & Steves wedding last week at Lower Damgate Farm, Ashbourne. Sums it all up nicely don't you think? Yes, they really were all that awesome and we really did sound this fantastic too. #AllAboutTheLive (Full Vlog coming soon)

Posted by Punch The Air – Wedding Band, Party Band, Corporate Events & Function Band on Friday, 4 May 2018
Hey Jude – TOTALLY LIVE at Rachel & Steves Wedding
Again here is another one shot of guests going crazy to The Beatles classic track Hey Jude at this Derbyshire wedding venue. "Nah, nah nah, na-na-na-nah".
---
Vlog 004 – Jenny & James's Wedding, Sutton Coldfield
We performed at the wonderful Moxhull Hall Wedding band for Jenny & James We have performed at this wedding venue on numerous occasions before. Plus all their family and guests. As you will see from the below West Midlands wedding video we were able to tailor the entire night to the clients needs. Unsurprisingly a brilliant time was had by all.
---
Vlog 003 – Olivers 40th Birthday Party Band
Birthday party band videos of 'Punch The Air' performing at the Robin Hood Golf Club, Solihull, Warwickshire. Olivers 40th birthday party. Here is a Facebook emoji style Vlog of our experiences during this great night out.
---
Shropshire Function Band – Vlog 002
We recently had a blast at a festival style wedding fair. Hosted at Brook House Farm in Shropshire wedding band. Subsequently here are our experiences and all the fun we had performing live. Unquestionably we enjoyed mucking around with the other exhibitors there too…read more
---
Live Birthday Party Band 'Punch The Air' 90 second blast video.
Occasionally all you need is one simple camera angle. Also 90 seconds to prove how much fun a live performance by 'Punch The Air' really is. Especially shot during one of our occasional showcase performances in a tiny little pub in Tamworth, Staffordshire.
---
Valerie (Amy Winehouse Cover Version) by Pippa Langhorne & Punch The Air video
We performed live at a wedding fair in Shropshire. Towards the end of the event we invited people up on stage with us. Unbeknownst to us at the time 'Britains Got Talent' semi finalist Pippa Langhorne sang Valerie by Amy Winehouse with us. We captured it in all its wonderful live glory below.
---
Birthday Party Band – Vlog 001
Want to know what it's like being a professional musician? Then watch the below video following Andy around for the day. Our vlog was filmed on the way to and during a birthday party live band performance in Clitheroe, Lancashire….read more.
---
Bride relives Johnny & Baby Final Dance scene from Dirty Dancing "(I've Had) The Time Of My Life"
After we'd finished performing live for Steph and Chris. Andy continued DJing for the rest of the wedding reception at while at Quality Hotel, Dudley wedding band. '(I've Had) The Time Of My Life' by Bill Medley and Jennifer Warnes is requested so Steph could relive her favourite scene.
---
Shropshire Function Band video
A Shropshire function band wedding performance of 'Fight For Your Right' by The Beastie Boys. While at Ludlow, Shropshire wedding band at Ludlow Brewery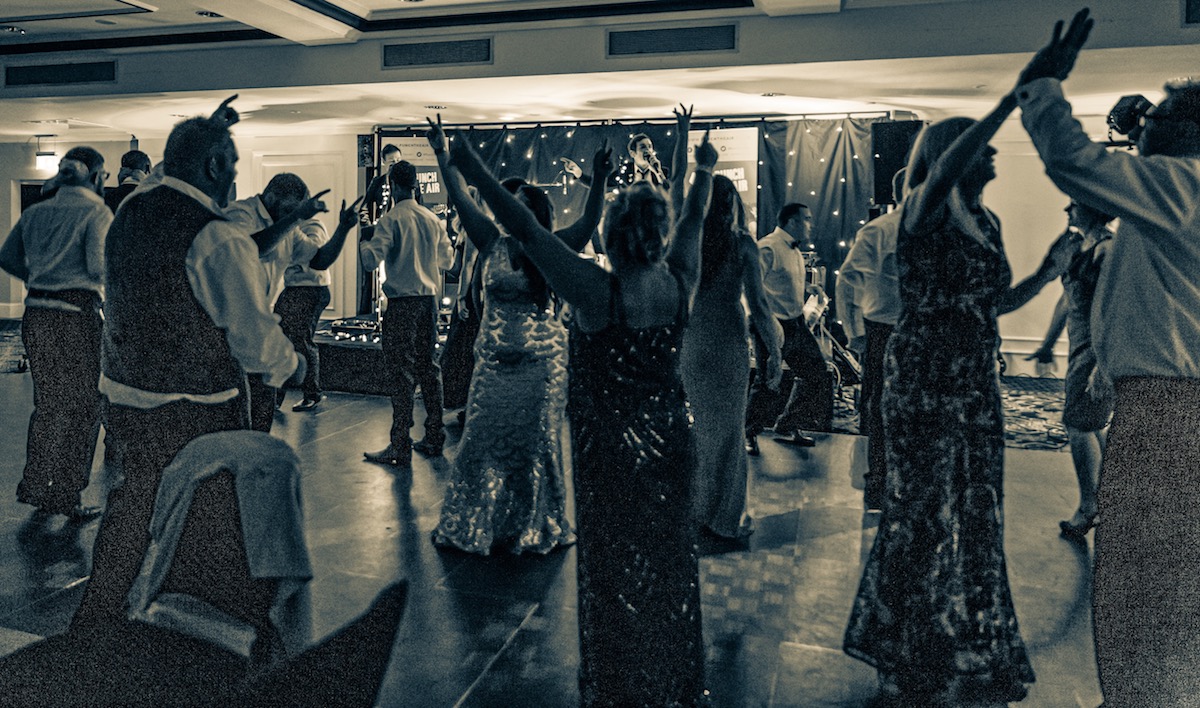 All previous and future party band videos of 'Punch The Air'
Present Day
Present Day Videos
Staffs Indie Party Band Videos Archive 5
Midlands Indie Pop Wedding Band Videos Archive 4
Birthday Party Band Videos Archive 3
Corporate Entertainment Live UK Band Videos Archive 2
Wedding Band Videos Archive 1
2013