'Punch The Air' are an endorsed by Bashall Barn wedding band. We have performed at this prestigious and beautiful Clitheroe, Lancashire venue on multiple occasions for weddings, birthdays & corporate events and have always had a fantastic time while there. The venue has a very contemporary styled interior and exterior with stunning views of the nearby hills and fields with beautiful sunsets. The interior is split into a couple of different sections so 'Punch The Air' can set up in one area while you have your wedding breakfast in another part of the venue. The long serving staff are very professional and the food is absolutely fantastic using only the highest quality ingredients. If you enjoy indie rock by The Killers, Oasis, Kings Of Leon, Kaiser Chiefs and more then contact our indie rock wedding band now for a quote.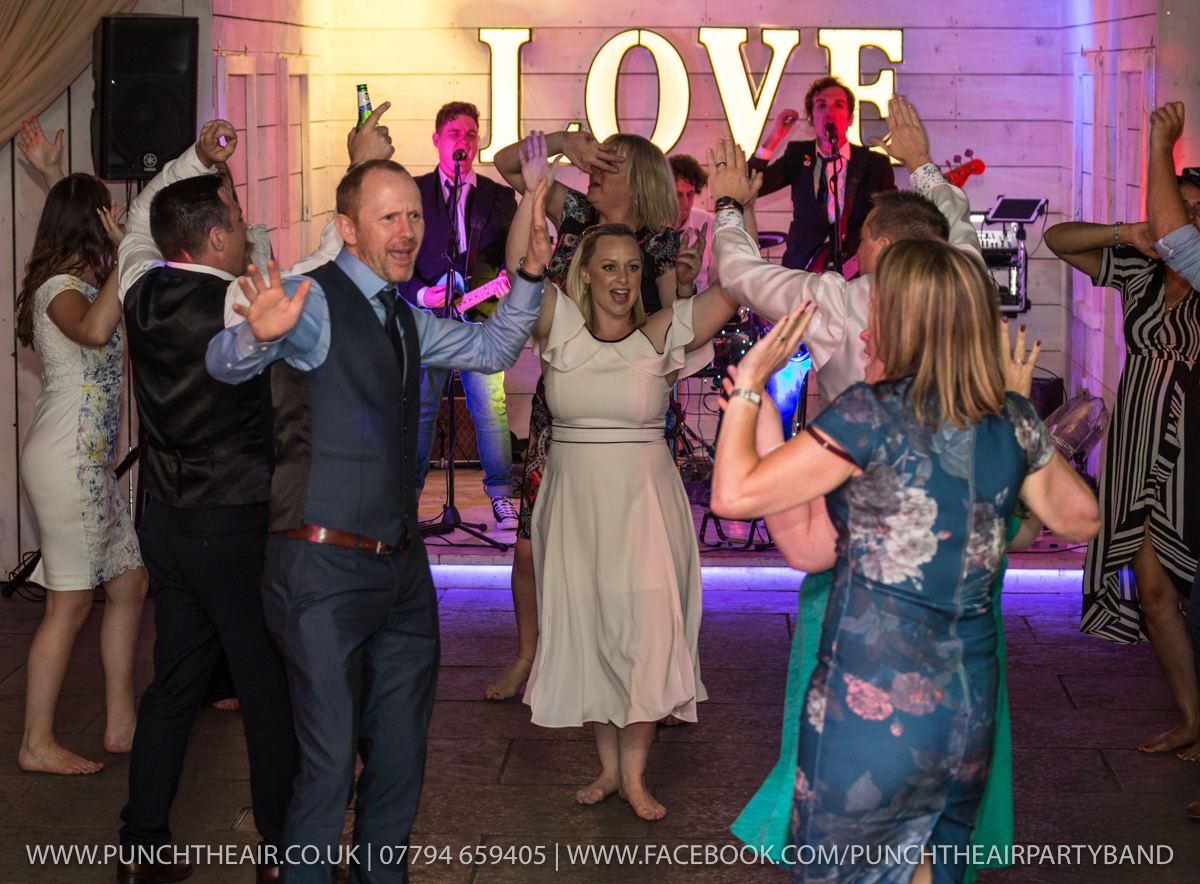 Book a Bashall Barn wedding band.
Professional wedding band 'Punch The Air' love performing in the #LoveShack as Bashall Barn call it (Although we always call it "The Love Box") with its amazing LED lit "LOVE" sign behind us. It looks so cool in photos and it lights the band up nicely from the rear too. This interior design really makes the venue stand out from any other wedding venue in the country. The sound our indie rock cover band can reproduce and mix in the room is fantastic with absolutely no chance of feedback coming from amps or the PA system at all. It features a slightly raised stage area making it easier for guests to see our covers band performing on. We are the perfect choice if you are looking to hire a wedding band in Clitheroe.
There is plenty of space for us to perform within The Love Box as a three piece band but you might struggle if you booked a band with four or more members. Parking and loading in for us is very simple and close by so we are able to move all of our gear in with little to no disruption to guests and staff. Usually loading in our gear, setting up and sound checking at most venues can take about 90 minutes….But at our last performance at Bashall Barn we managed it in just 57 minutes as we know the layout and sound style of the venue so well now. Also book indie cover band for your birthday party, charity event or corporate event at this Clitheroe wedding venue. Book a wedding reception band for a barn wedding.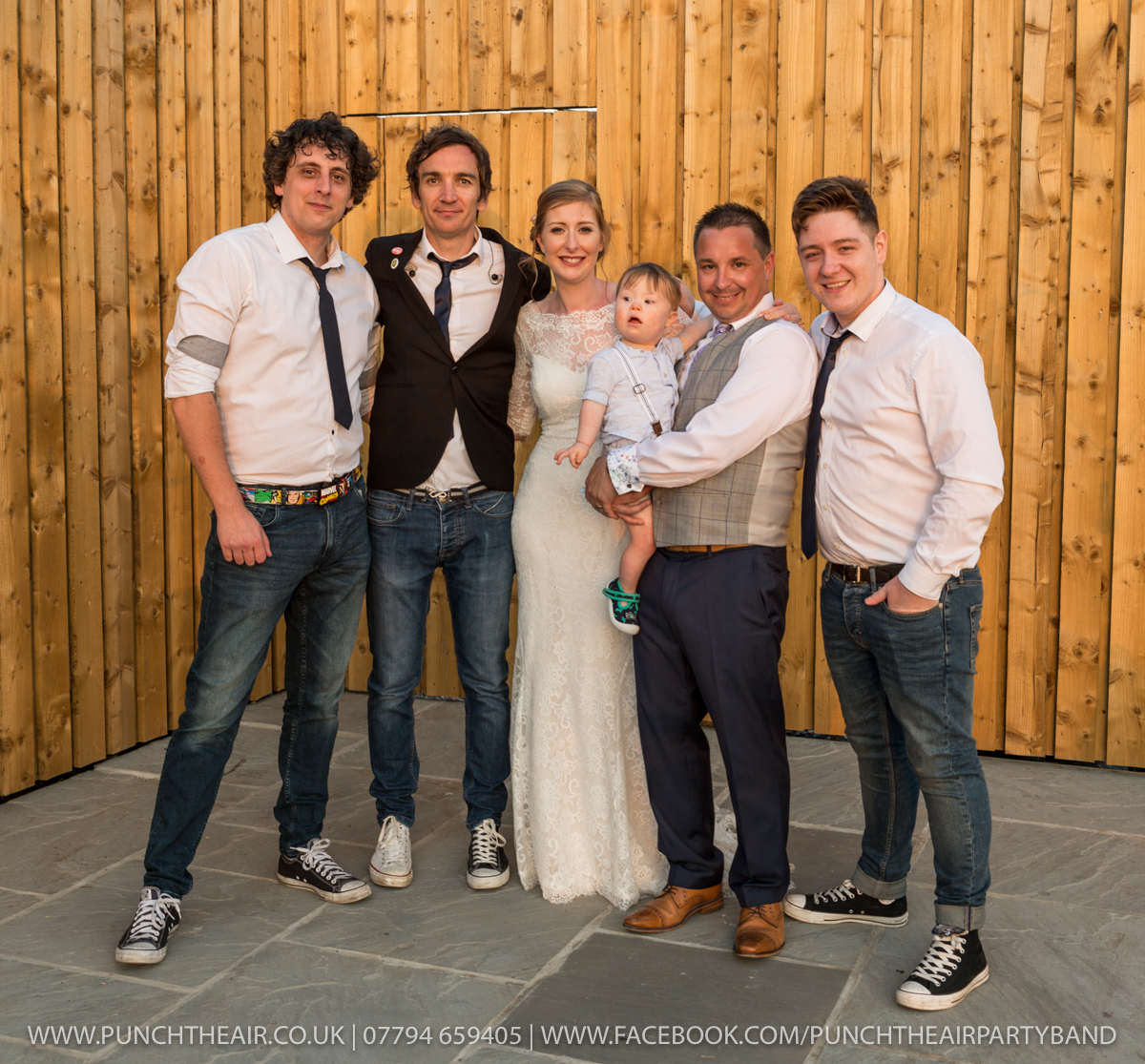 How much will it cost to hire 'Punch The Air' as my Bashall Barn Wedding Band?
Prices start from £1359 for 2 x 45 minutes of live performances with iPad DJ services included before, inbetween and afterwards until midnight. You also get PA and lighting included in the price too. We have various optional extras listed below that you can also upgrade to if you wish. We can work to whatever schedule you have for your day but we've always found that the following seems to work best at Bashall Barn:
6:00pm – Bashall Barn wedding band 'Punch The Air' arrive, set up and soundcheck (Approx 60-90 mins).
Approx 7:30pm – Your evening commences with light DJ services provided by 'Punch The Air'.
8:15pm – Cake cutting followed by your first dance as a married couple. 'Punch The Air' will be waiting on stage ready to kick into our first live Indie Rock and chart pop performance.
9:00pm – DJ services / Buffet.
10:15pm – 'Punch The Air' perform their second live set.
11:00pm – DJ services.
Midnight – Event ends. Coaches & taxis arrive to collect guests.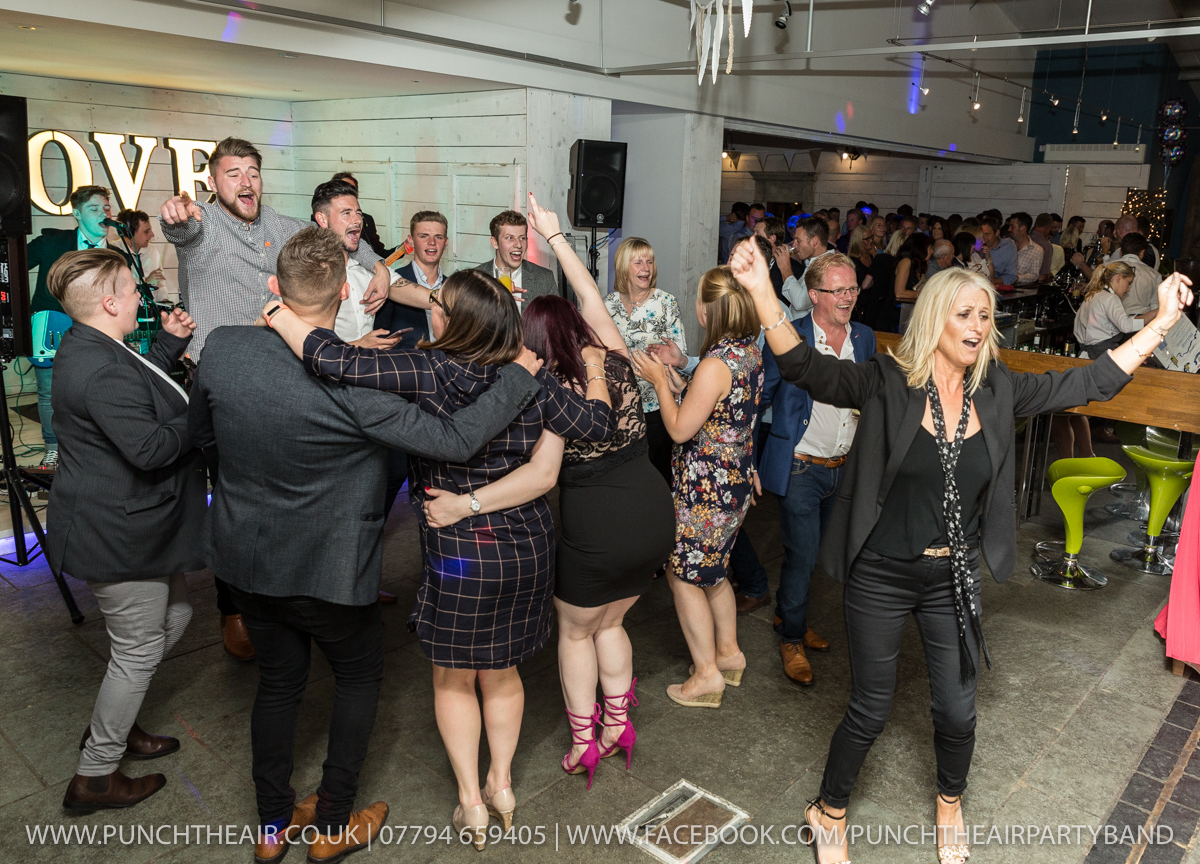 What type of wedding band are 'Punch The Air' and what kind of music do they perform?
'Punch The Air' are a three piece guitar based, energetic pop & Indie rock band. We really like to involve you and your guests in our performances and love to get everyone singing, clapping and dancing along with us. You'll see how our enthusiasm shines in our live videos and images throughout this page and website. We want to make your day special and memorable for you and all your guests and we'll bend over backwards to accomodate your needs. Our professional musicians are the right choice if you want to hire a wedding band in Lancashire.
'Punch The Air' perform Indie Rock and "Something for everyone" live sets so you can be sure that all your guests will know and love all of our renditions of massive pop hits from modern day all the way back to the 1950s. We don't perform anything that is too loud or too "Heavy" or even too overly modern as we want everyone to enjoy all of our music. So thats tried and tested huge pop hits from:
Indie Rock – By Arctic Monkeys, The Killers, King Of Leon
Modern day – By artists such as George Ezra, Florence + The Machine, Amy Wienhouse
1990s – By artists like Oasis, Blur, James.
1980s – By artists like Human League, Rick Astley, Joan Jett.
1970s – By artists like Queen, Undertones, Lynyrd Skynyrd.
1960s – By artists like The Beatles, Rolling Stones, The Kinks.
1950s – By artists like Elvis & Chuck Berry.
Our full and ever expanding repertoire in both alphabetical and decade order.
Videos of us performing live.
Below is our Vlog of what a day in the life of a professional musician performing at Bashall Barn is like. You'll see everything that we get up to from when we leave our homes all the way through to the end of the night. Everything you see and hear in this video is 100% live, exactly how it will be when you book us for your wedding.
And here is our another party band videos Wedding Vlog showing just how much clients and guests enjoy us when 'Punch The Air' are hired for your live wedding entertainment.
Whats included when you book 'Punch The Air' as your Bashall Barn wedding band?
2 x 45 minutes of live, upbeat & high-octane performances (Plus encores).
Professional, 'Hard Copy' Contract.
A professional experience from your initial contact right through to when your event ends.
State of the art high end PA system, sound desk and lighting rig.
DJ services before, inbetweeen and after live performances so you can continue to dance the night away.
Public liability insurance and PAT certification.
Peace of mind booking a band that have performed at Bashall Barn on many occasions and so understand exactly whats required of them.
No hidden agency fees.
Additional chargeable services we can offer you on your wedding day: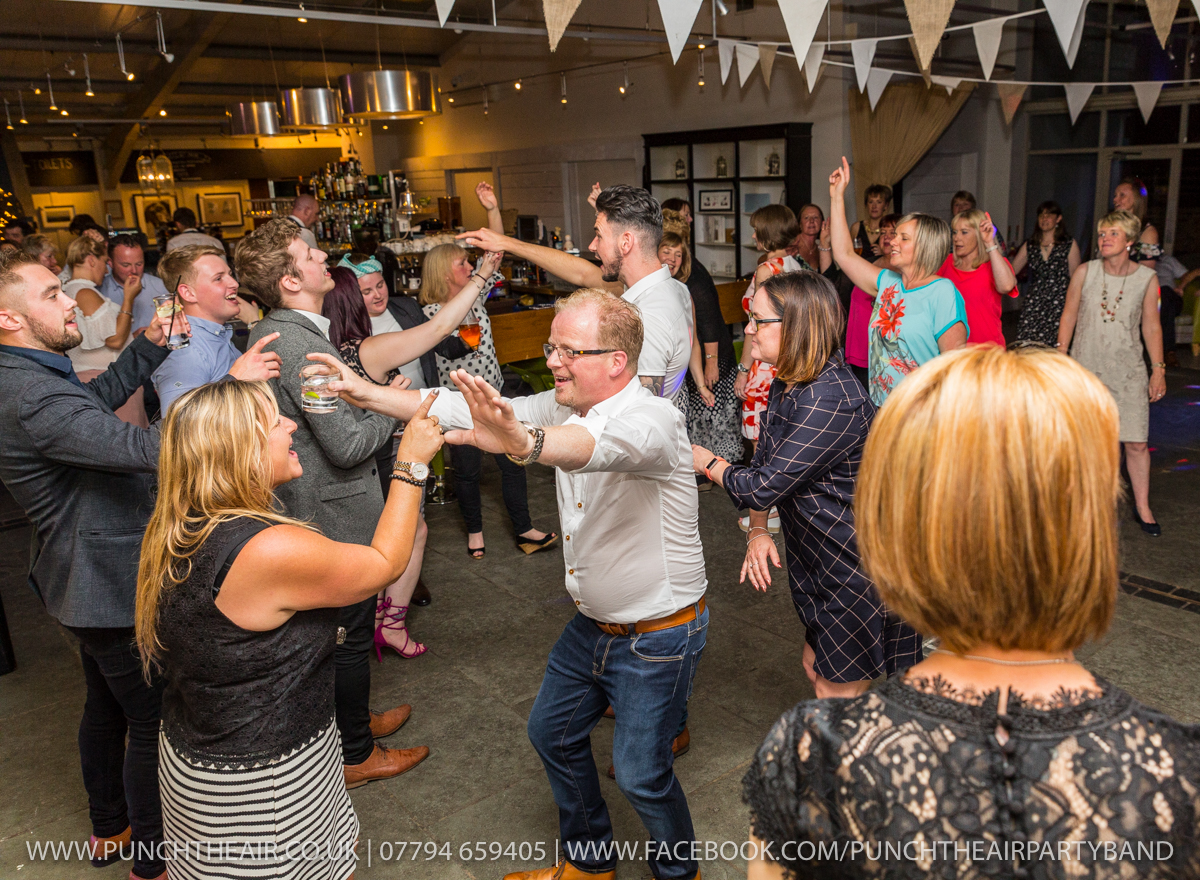 Note: Did you know that any band that performs at Bashall Barn MUST use an electronic drum kit?
This is because Bashall Barn have a "Sound limiter" installed in the venue. It helps them to be able to still have live bands perform there while adhering to a strict (ish) decibel volume level. 'Punch The Air' have an optional state of the art electronic drum kit for venues with sound limiters. You can be assured we are able to keep within a venues noise limits. Our wedding party band always bring our electronic drum kit along with us when performing as a Bashall Barn band and it will cost you no extra fee.
Endorsements of our performances at Bashall Barn band.
Don't just take our word of how good we are as a Bashall Barn wedding band, check out real life reviews of our performances at the venue below. Read our full FIVE STAR live party band reviews.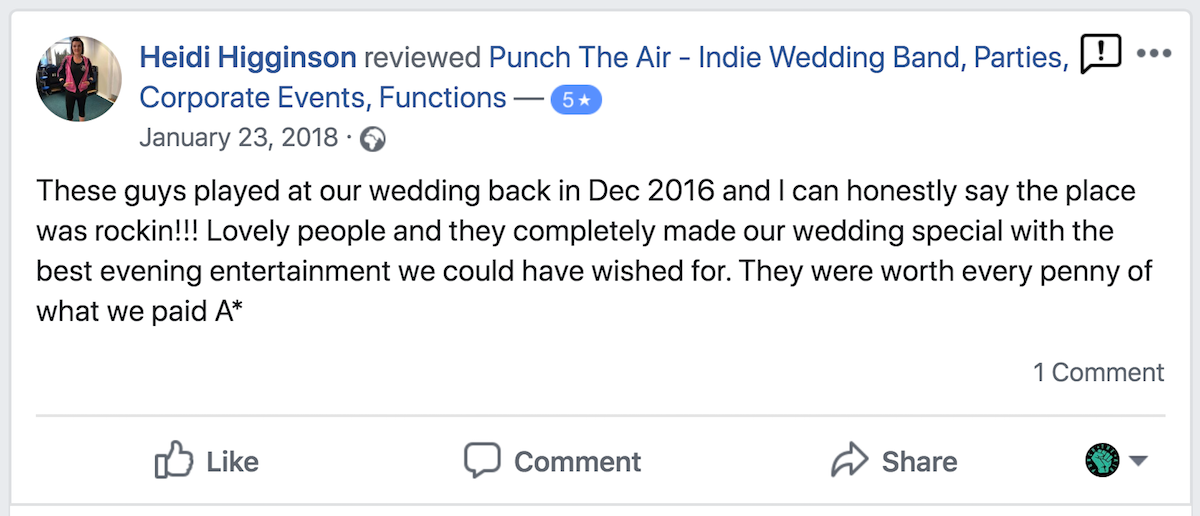 Bashall Barn endorsement of 'Punch The Air'.
As you will see by Bashall Barns Instagram profile they highly recommended 'Punch The Air' as a wedding band at their venue.
"A great band, will have everyone on the dance floor"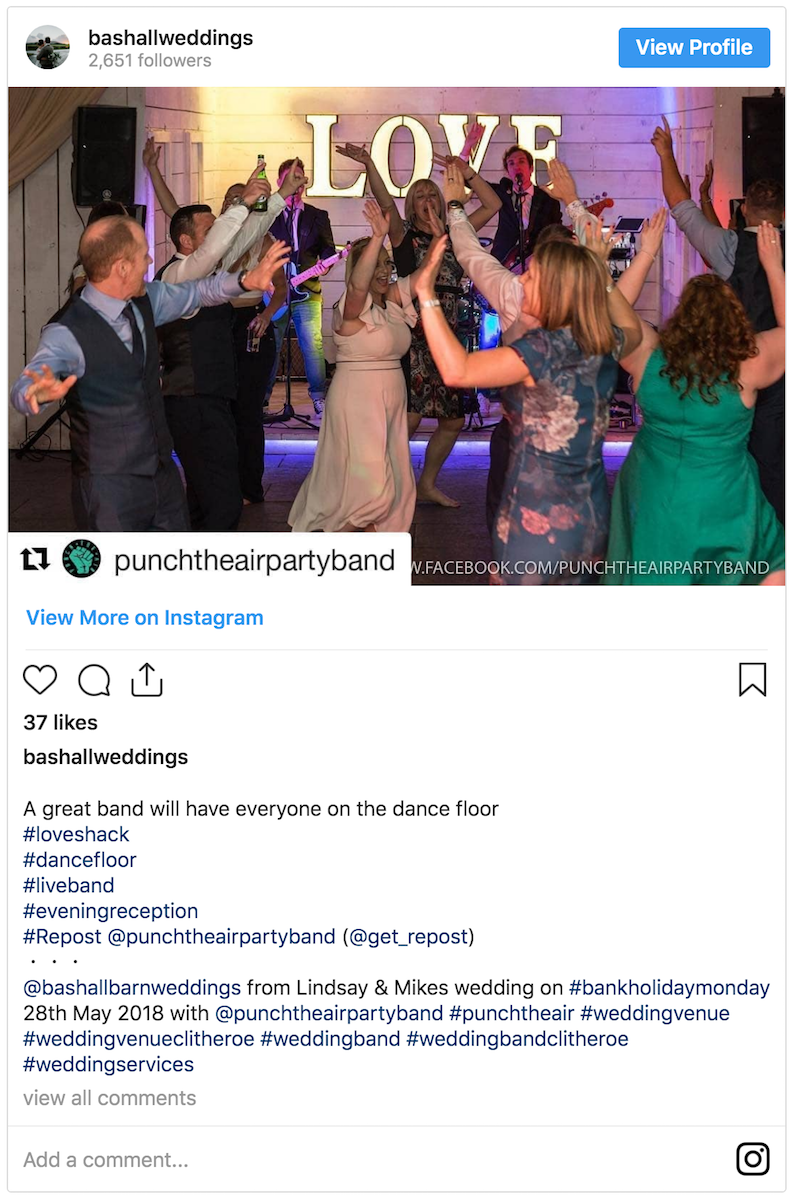 Bashall Barn Wedding Band contact form:
Are you having problems with the above form? If so you can email punchtheairband@gmail.com or call UK 07794 659405.
---
If you have any questions then you can hop on over to Function band FAQ or email punchtheairband@gmail.com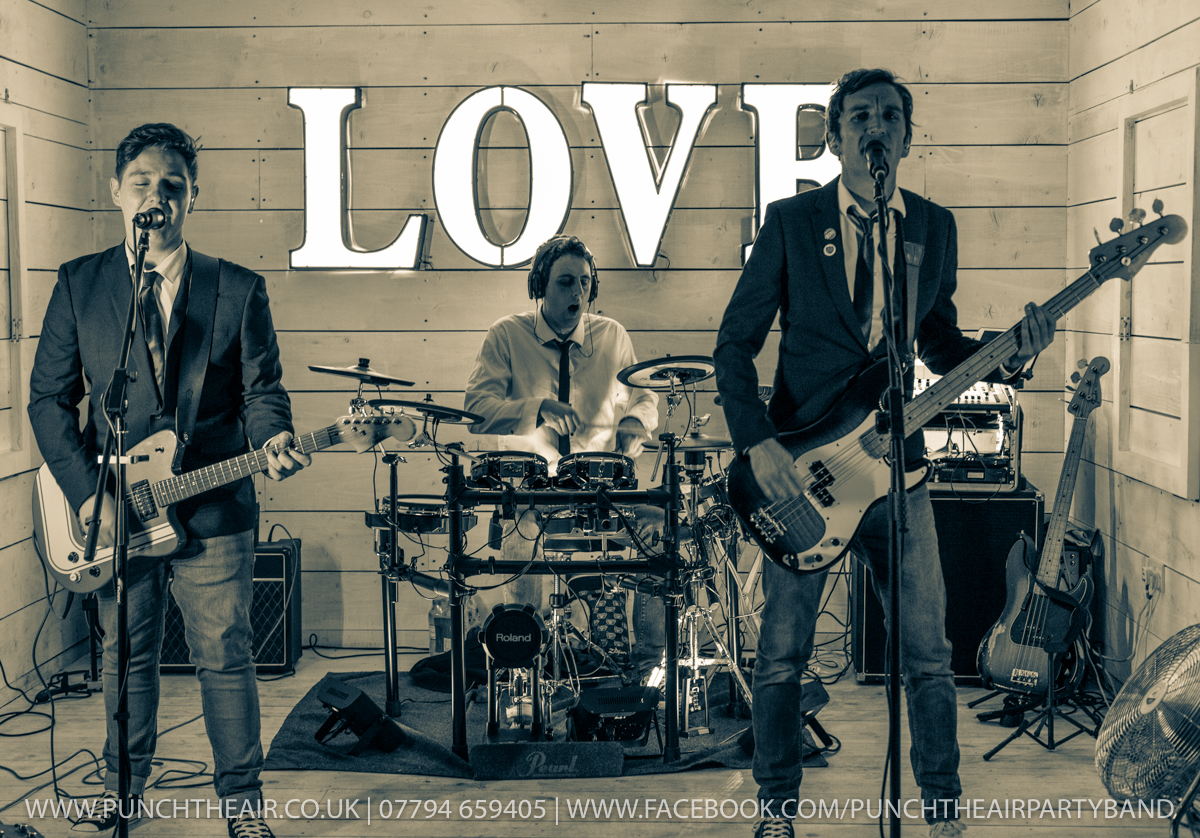 'Punch The Air' – Your Bashall Barn Wedding Band.