3:20pm – I set off for Taunton, to perform in Somerset at a 40th Birthday Party Band bright and early. Its a loooong way away and I don't want to be late by getting caught up in traffic throughout the mammoth journey. Classic Indie Rock party band 'Punch The Air' are playing in a barn on a farm for a 40th Birthday Party tonight. The client also wants additional DJ services after so I doubt I'm going to be home before 4am tomorrow. Yes, thats four o'clock in the middle of the night. Find out more about our indie rock birthday party band package. View our many live videos, peruse our galleries then contact for to check on price and availability for your birthday party.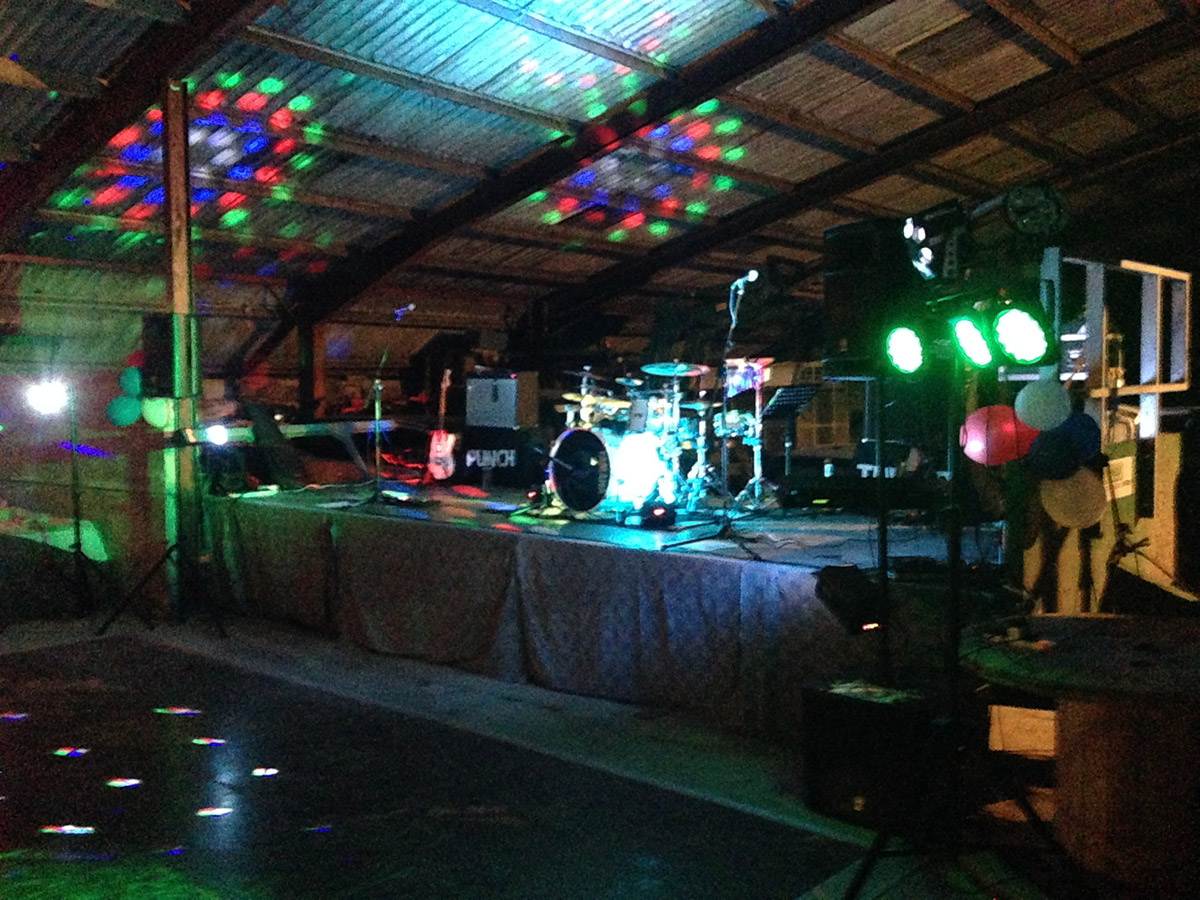 En-route to 40th Birthday Party Band
3:30pm – My sat nav (Apple Maps) tells me that the best way to get to the M5 is through Sutton Coldfield and then Wylde Green, Erdington and onto the M6 (Personally I would've thought the M42 would be quickest, but I assume it knows best……)
4:00pm – I'm still not even on the M6 yet…..Next time (and on the way back) I'll use my own instincts.
5.00pm – I'm well into the journey on the M5 now and even though there are lots of 40 & 50mph road work speed limits the traffic is moving nicely. I listen to Radio 2, Abba Gold (Hey even rock dudes like us like a bit of Abba) a bit of the Beatles and make a few phone calls to while away the motorway hours.
5:30pm – I've just passed Bristol and Portishead so it's not THAT much further now until indie cover band 'Punch The Air' arrive.
Slightly wrong venue
6:10pm – I pull up at completely the wrong farm (And so has everyone else attending the 40th Birthday a man tells me who directs me to the correct farm)…..Again thanks Apple Maps.
6:12pm – I pull into the correct venue of the 40th Birthday party, a large ground with multiple tents, buildings and barns everywhere and I'm directed into a barn containing cows. I notice the "Farmyard" smells for just a few moments until it becomes a part of natural breathing. Tonight it seems we're playing on the back of a trailer and I'm able to pull the van right up to the rear of it and keep it there all night. (Thank goodness they'll be no dragging PA speakers through muddy fields). Stewart (Our session/dep drummer for the evening due to Matt being currently on holiday in Thailand) must have arrived very early as he's already completely set up.
There are a couple of little kids hanging around who have apparently been enjoying themselves playing on Stu's drums while he waits for me. I think this is going to be a great night for our indie rock cover band.
6.15pm – Stu and I start to pull all the gear from the van and decide where its going on and off stage. A wooden dance floor has been laid out and there are a couple of lights on the wall. There's a couple of kegs of beer and various spirits and bottles of wine up the far corner bar. The barn is done out in true barnyard style with bales of hay making up seating areas and huge round wooden tables. Its gonna be one heck of a ho-down tonight.
Meeting the 40th Birthday Party Band client
6:20pm – The 40th Birthday girl introduces herself to us and we chat for a while about booking live entertainment. She's a lovely gal.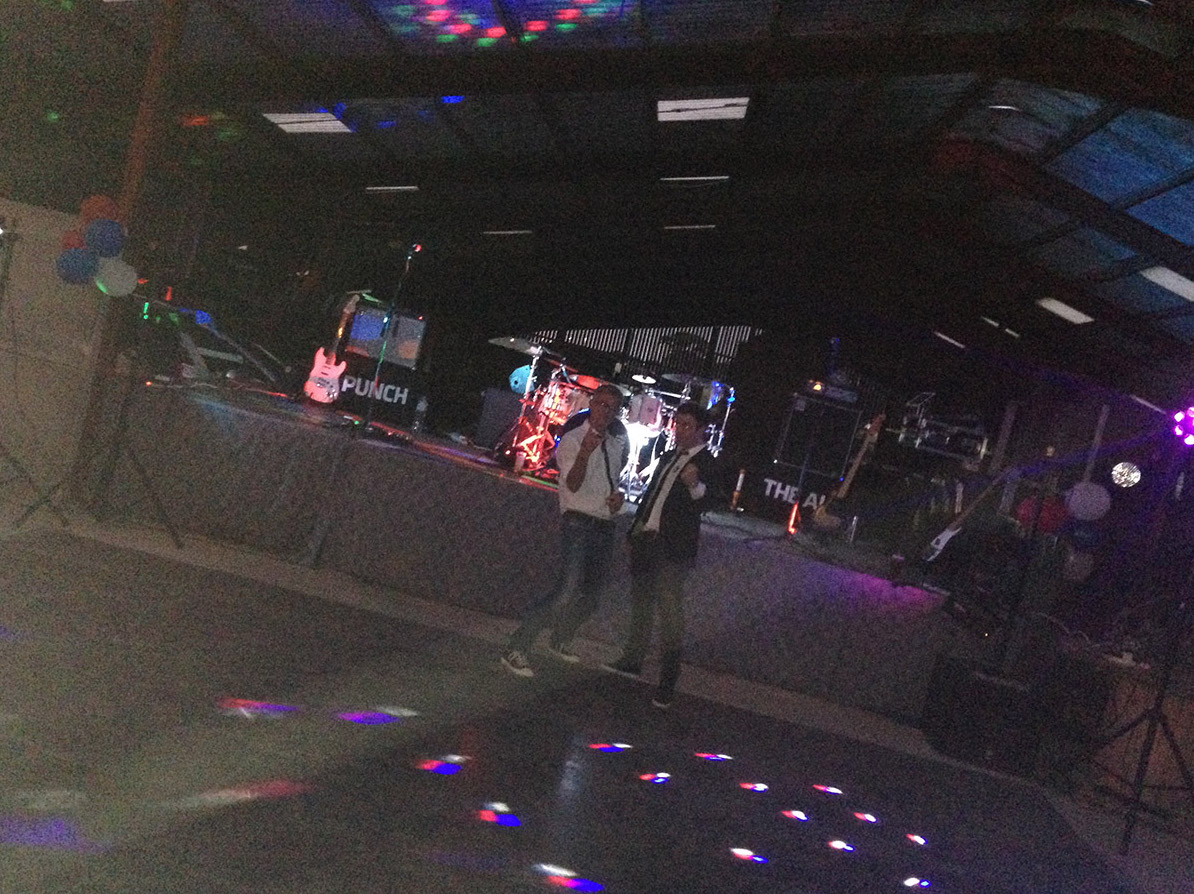 6.25pm – James arrives and starts to unload his gear. There are multiple questions from the group of kids hanging around and a little girl calling herself "Fizzy" quickly hooks herself onto us. I worry that there is not going to be enough power sources nearby but our 25 and 50 meter power extension cables do the job nicely.
6:56pm – The initial set up of our backline is nearly complete and we're just about ready to sound check. Its clear from the offset that the PA is going to have to be a lot louder than usual so its a good job we've got 1.6Kw of power to play with. There's a slight issue when "Phantom Powered" microphones and I have to re-check input levels again, but nothing major. I'd spent a good few hours with the PA on Friday morning tinkering with bass, gate and EQ settings and its really paid off as we sound better than ever. I can hear myself crystal clear on stage through my in ear radio monitoring system so that makes me happy and calm.
7.12pm – During soundcheck "Fizzy" asks for some Guns N Roses, so James obliges. Followed by various other classic rock requests from her.
Ahead of schedule
7.30pm – 30 minutes ahead of schedule I pop the DJ iPad software on over the PA and we get the party started WAAAAAY ahead of schedule. I set up the custom projector logo I created for the client.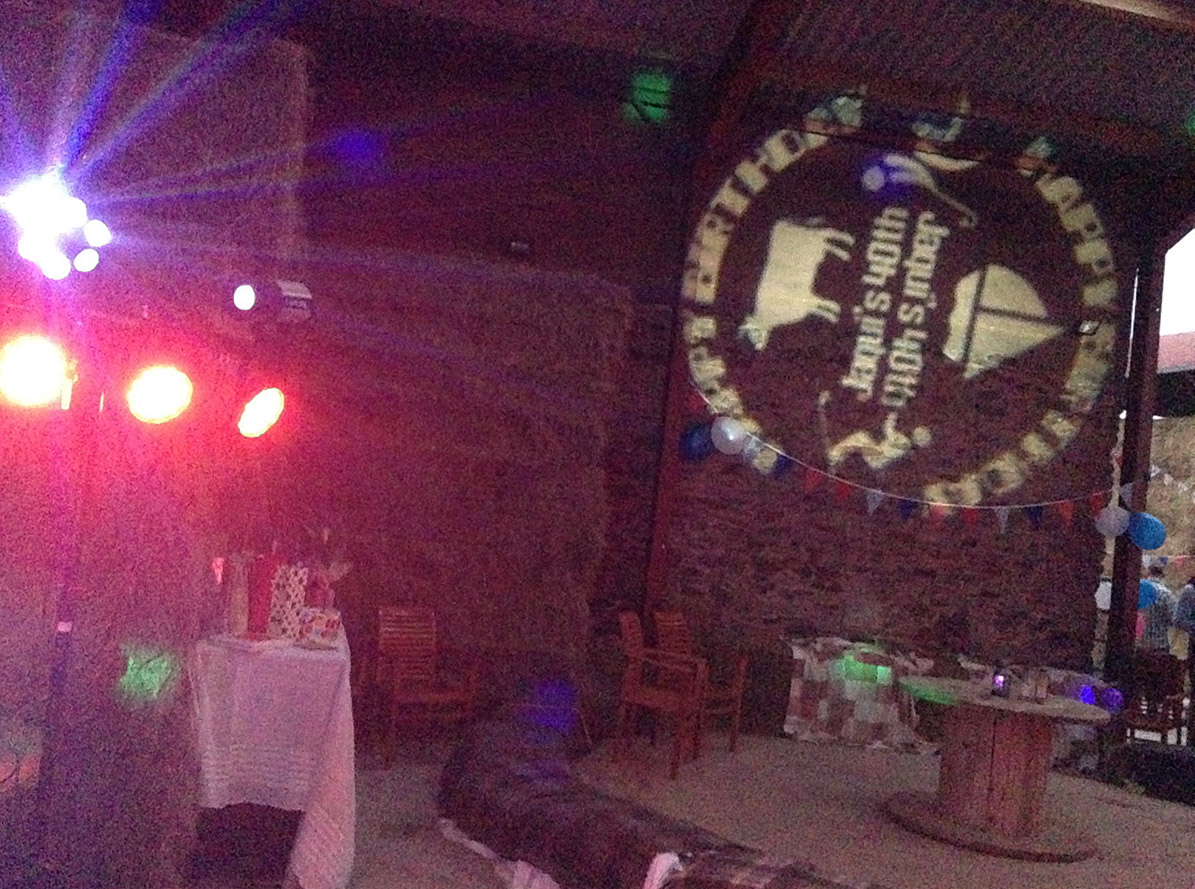 7.34pm – Guests start to appear and I continue to set up more on stage and dance floor lighting. It's a good job I bought EVERYTHING with me as its a huge barn and what with there being no wall behind us the light would just be getting lost otherwise. Kids dance the way only kids can dance and a little toddler dressed in red is already having the time of his life…..I hope they get to see us perform live later on.
8:10pm – I get changed into my onstage clothing and pop out to mingle with guests.
8.40pm – Its starting to get dark now and "Backstage" i.e. in the actual cow shed its getting very dark and I wonder how we'll be able to see how to get up on stage later. But we borrow a large torch (Now on my shopping list) and we can see what we're doing. Later on we find a floodlight…even better.
8:45pm – The toddler dressed in reds parents introduce themselves to us and tell us that "Noah" loves music and he'll no doubt be right at the front of the stage dancing his little heart out later…..The more the merrier we say.
First live performance by 40th Birthday Party Band
9.00pm – Here goes the first set. There's Beatles, The La's, Wonderstuff (Dedicated to the real life cows behind us that we must be keeping awake), Amy Winehouse and more. Thats the indie rock cover band audience members catered for. The crowd are up and dancing from the off set, and so is little toddler Noah……bless him.
9.20pm – We all sing a classic Happy Birthday to the birthday girl, followed by our own full band version.
9.40pm – The client joins us onstage to sing 'Johnny B Goode' (unbeknown to us, but still tonnes of fun), we even change the words to her name. This is why Punch The Air are a top rated party band. We later find out that she used to play the track in a band she had when she was a teenager.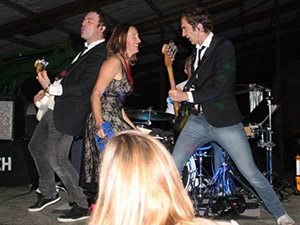 Wonderwall by Oasis is performed next.
Little toddler Noah waves us all a lovely farewell on the second to last song of the set before he's taken off to bed by his parents.
First live performance closes
9.50pm – This Charming Man closes the first set (Both sets have been tailored to suit a 40th Birthday Party). I announce over the PA (At the clients request) that it time for all the kids to go to sleep. Now so all the adults can party without them. I stick on some modern pop music and we quickly head off stage. We down a few pints of water and head out to help ourselves to the buffet. The caterers at this 40th Birthday have produced some of the best tasting treats I've ever eaten. The pig roast (Supplied by a different local supplier) is out of this world (Pictured).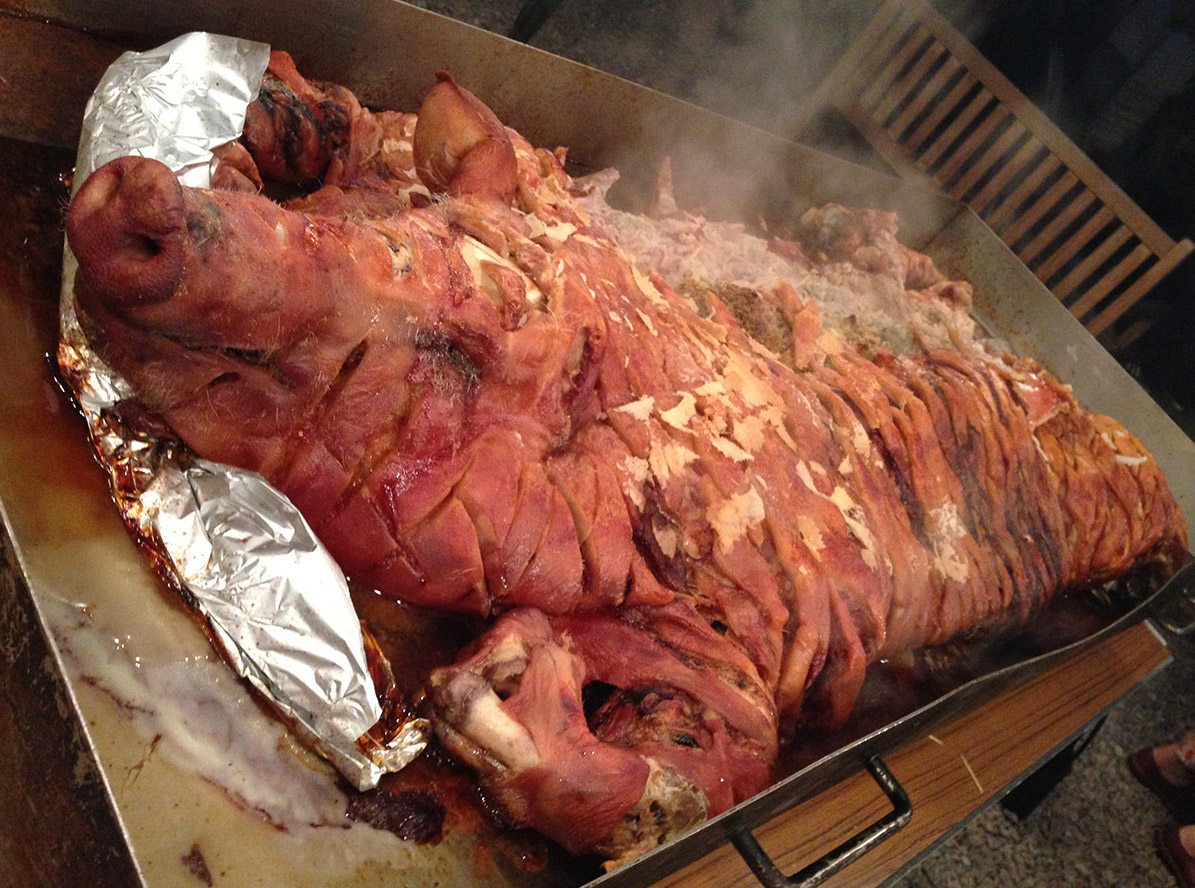 We feed goats, stroke dogs, entertain some of the remaining kids still awake. Also we chat with guests (Who try to quiz us on what's coming up in the second set) and catch up with the birthday girl.
10.05pm – I sample a pint of the local amber ale that's on tap and very nice it is too. The parties in full swing now and everyone's hankering for us to go back on stage again.
40th Birthday Party Band second set commences
10.40pm – We tune up and quickly start the second live set with some light hearted punk/pop.
10.47pm – Everyone's back on the dance floor singing and dancing along. We play a classic Pulp hit, a few 80s numbers and its time for the audience to sing the rest of the set to us. Kaiser Chiefs, Arctic Monkeys, The Killers, Kings Of Leon, we pay them all.
10.59pm – The audience are now up on tables, hay stacks and giant cable coils acting as makeshift tables. The crowd scream out for more.
11.40pm – We're still going…..
11.45pm – We leave the stage to passionate applause and I pop a bit of Blur on, followed by Queen. It not over yet though as…..
11.53pm – We're back on stage for a final encore. Help by The Beatles followed by a request that we don't usually get the opportunity to perform live. 'One Day Like This' by Elbow. It was requested by the client to be played on the DJ playlist but why not go one better and perform it live for her 40th Birthday Party?
11.55pm – "Throw those curtains wide, one day like this a year will see me right" everyone sings with us.
Second set ends
12.05am – And the live sets are finally over and the DJ set starts up. Many members of the audience come up and shake us by the hand congratulating us on such a wonderful performance. The client comes over to thank me and I notice she doesn't seem all the inebriated….."I've not been drinking" she informs me…..Imagine that, sober on your 40th Birthday…..each to their own eh. She thanks us for a brilliant night, but its not over yet.
12.10am – The client requested a collection of songs to be performed DJ wise. I slip those on for her as we begin the laborious task of packing everything down. That we can do without disturbing PA speakers or dance floor lighting.
12.35am – We're asked for a couple of requests by guests, so they go on too. Guitars, amps and drums are cleared away and so is a heck of lot of cabling…..I'm still always surprised how much gear we own and what it takes to get 'Punch The Air' its own unique thick sound. James disappears off back home and Stu very, very kindly offers to stick around. He going to help me out with the rest of the gear when the nights over.
1.00am – The 40th Birthday party band is over. We give the last of the dancers a round of applause. Stu and I start to pack away the rest of the PA and lighting. The vans very near, so this shouldn't take too long. The client thanks me again and asks me if I want any food to eat on the way home. I take a little cheese and fresh fruit to hopefully keep me awake later.
Leaving the venue
1.15am – We finally leave the farm and start the long journey home. Having discussed with Stu a quicker way back when I reach the Midlands I'm confident I can be home before 4am.
2.30am – Making good time and listening to some great tunes. But it pains me to have to pull into a motorway service station. I need for some fuel. At least it's a swanky new forecourt and interior at Gloucester. The cashier is nice and cheerful for this time of night.
3:40am – I'm home and 20 minutes earlier than I'd hoped. I pour myself a glass of honeyed vodka with ice and head off to bed (Come on, I deserve it). It really was a great book a 40th Birthday party band affair. The client was really lovely, it was a brilliant makeshift venue. The crowd were really up for it all night long, and we sounded better than ever.
JOB DONE.
The following day we receive this lovely testimonial from the client:
"Absolutely ROCKING night – thank you to all the band for a superb night – we loved every minute of it!!!"
You too can hire a 40th birthday party band 'Punch The Air' for your fortieth party. Contact our Classic Indie rock party band to check on price and availability. You can also book us as your indie rock wedding band, indie rock party band, indie rock birthday party band. You can also hire 'Punch The Air' party band for many different types of events that require live music.